Season 47
October 4–20, 2018
Men on Boats
By Jaclyn Backhaus
Directed by Latrelle Bright
Cast
John Wesley Powell: Dominique Allen
William Dunn: Martha Mills
John Colton Sumner: Krystal Moya
Old Shady: Misty Martin
Bradley: Courtney Malcolm
O.G. Howland/Tsauwiat: Kahlilah Lane
Seneca Howland/The Bishop: Janhavi Kolhe
Frank Goodman/Mr. Asa: Jenny Gleason
Hall: Sarina Donohue
Hawkins: Monica Hoh
Story
Ten Explorers. Four boats. One Grand Canyon. MEN ON BOATS is the true(ish) history of an 1869 expedition, when a one-armed captain and a crew of insane yet loyal volunteers set out to chart the course of the Colorado River.

There is a feminist spin in that the 10 male volunteers are played by ethnically diverse, female-identifying women.
November 1–17, 2018
Hir
By Taylor Mac
Directed by Dustin Yocum
Cast
Isaac: Nick Strole
Max: Jess Schlipf
Arnold: Mike Prosise
Paige: Cara Maurizi
Story
After returning from the wars, Isaac arrives at his childhood home to discover that the house and family he knew have been upended. His once-timid mother is on a whirlwind crusade to subvert the patriarchy, his sister is now his gender-queer brother who refers to hirself in gender-neutral pronouns. Meanwhile his stroke-ridden father sits on the couch in a muumuu and clown makeup. As Isaac attempts to reclaim structure in a household that refuses to be tamed, the family is forced to confront what it is to live in a new world when one is stuck in the past.
November 29–December 15, 2018
Mamma Mia!
Music & Lyrics by ABBA's Björn Ulvaeus and Benny Andersson, with some songs with Stig Anderson
Book by Catherine Johnson (originally conceived by Judy Craymer)
Directed by Katie Burke
Music Direction by Noah Scott Larson
Choreography by Whitney Havice
Cast
Sophie Sheridan: Hannah Yonan
Ali: J'Lyn Hope
Lisa: Ashley Giberson
Donna Sheridan: Ranae Wilson
Tanya: Suzy Goben
Rosie: Jenny Gleason
Sky: Matt Weaver
Pepper: Remy Saymiknha
Eddie: Terron Miller
Harry Bright: David Heckman
Bill Austin: Peter Barrett
Sam Carmichael: Kevin Wickart
Father Alexandrios: Jace Jamison
Chorus: Melissa Goldman, Janhavi Kolhe, HeatherAnn Layman, Dani Brown, Natalie Deptula, Parker Evans
Story
A young woman wants to invite the father she's never known to her wedding, only to discover that she has three possible fathers! Told through the legendary music of ABBA, "Mamma Mia!" has been a worldwide sensation ever since its 1999 London premiere. This romantic musical comedy inspired the 2008 film, as well as the 2018 sequel.
Mamma Mia! is presented through special arrangement with Music Theatre International (MTI). www.MTIShows.com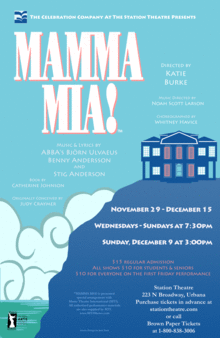 January 17–February 2, 2019
The Women of Lockerbie
By Deborah Brevoort
Directed by Mathew Green
Cast
Madeline Livingston: Mindy Smith
Bill Livingston: Lincoln Machula
Olive Allison: Barbara Evans
Woman 1 (Chorus): Mary Rose Cottingham
Woman 2 (Chorus): Heather Gardewine
Hattie: Jordan Needham
Mr. Jones: Eric Schacht
Story
On Wed. Dec. 21, 1988, Pan Am Flight 103 exploded in midair as it traveled from London to New York City. The explosion scattered pieces of the plane over 850 square miles of Lockerbie, Scotland, as well as the remains of the 243 passengers and 16 crew members. Twenty-one houses on the ground were destroyed, and 11 people there also lost their lives.
Deborah Brevoort based her 2003 poetic drama The Women of Lockerbie on the aftermath of the terrorist attack. In the play, which was written with the structure of a Greek tragedy, an American woman whose son died in the bombing discovers a group of Scottish women who are trying to collect the victims' clothing, which had been scattered across Lockerbie. Their plan is to wash and return 11,000 items of clothing to the victims' families as a symbolic gesture, but they find resistance from a U.S. official.
February 21–March 9, 2019
A Doll's House Part 2
By Lucas Hnath
Directed by Rick Orr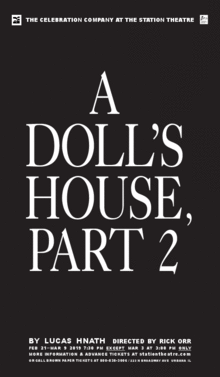 Cast
Torvald: Gary Ambler
Emmy: Lindsey Gates-Markel
Nora: Cara Maurizi
Anne Marie: Barbara Ridenour
Story
Inspired by Henrik Ibsen's groundbreaking 1879 classic "A Doll's House," this Broadway hit raises fascinating questions about marriage and the ways the roles of women have and haven't changed.
March 21–April 6, 2019
Marisol
By José Rivera
Directed by Jace Jamison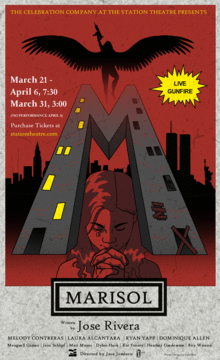 Cast
Marisol: Melody Contreras
Angel: Laura Alcantara
Lenny: Ryan Yapp
June: Dominique Allen
Man with Scar Tissue: Meaguell Gaines
Woman in Furs: Jess Schlipf
Man with Golf Club: Matt Mayer
Man with Ice Cream: Dylan Heck
Radio Voice/Homeless: Kat Fuenty
1st Voice/Homeless: Heather Gardewine
2nd Voice/Homeless: Rey Watson
Subway Announcer: Mike Prosise
Story
New York City, Winter, 1992. Homeless people are being burned in Van Cortland Park, the moon has disappeared from the sky, and natural food has turned to salt. Marisol Perez was just told that her guardian angel has been called to serve the war in Heaven, and can no longer protect her from the universe that's being broken apart by a senile God. Marisol must now face an angry, dying Earth on her own.
April 18–May 4, 2019
Stupid Fucking Bird
By Aaron Posner, sort of adapted from "The Seagull" by Anton Chekhov
Directed by Kay Holley
Cast
Con: Jake Fava
Nina: Lindsey Gates-Markel
Dev: Eric Beckley
Mash: Hannah Yonan
Emma: Joi Hoffsommer
Trigorin: Gary Ambler
Sorn: Bill Kephart
Story
In this irreverent, contemporary, and very funny remix of "The Seagull," playwright Aaron Posner scoops up Chekhovs tale of unrequited love, missed opportunities, and misplaced dreams and sets it down squarely in the bustle of 21st century life.
Summer 2019
June 6–22, 2019
The Taming of the Shrew
by William Shakespeare
directed by Laura Alcantara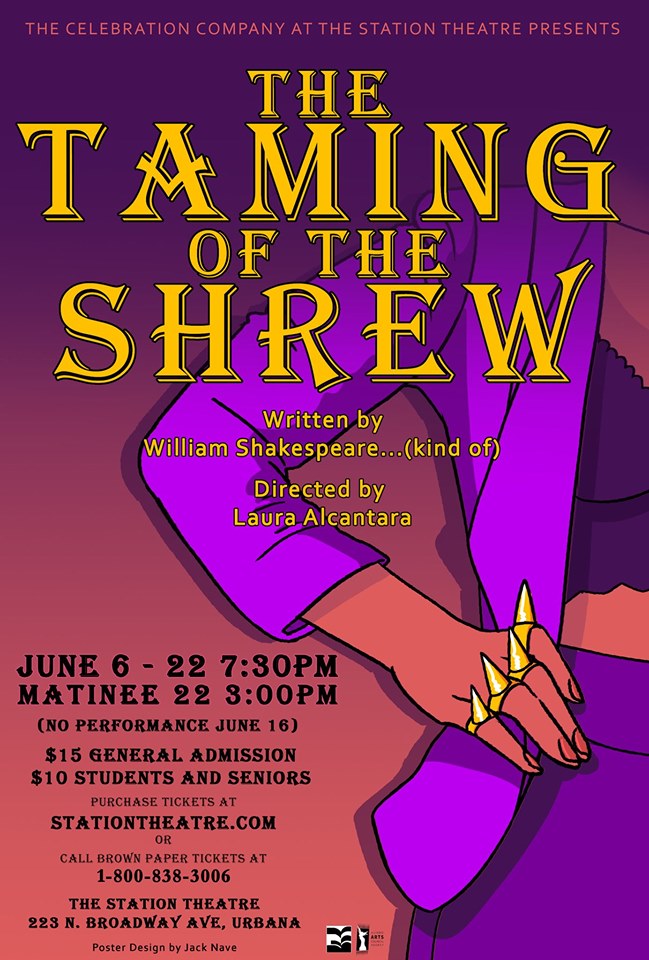 Cast
Katherina: Mindy Smith
Petruchio: Mathew Green
Baptista: Lincoln Machula
Hortensio: Laura Welle
Bianca: Jordan Needham
Gremio: Matt Hester
Lucentio: Wesley Bennett
Tranio: Celia Mueller
Grumio: Parker Evans
Biondello: Raymond Watson
The Widow: Mary Rose Cottingham
Story
Padua. Then, or maybe now?
Wealthy Baptista has two daughters. The younger, Bianca, is a modest maid, fair and virtuous; the elder, Kate: an "irksome, brawling scold," famous for her vicious tongue. Three suitors compete for Bianca's hand in marriage, but Baptista will have none of them--not until Kate is married and provided for.
So! Who will our three suitors find to tame Padua's notorious Shrew? Enter Petruchio, stage left.
We're taking a fresh look at Shakespeare's classic comedy about patriarchy, romance, and more patriarchy. Prepare yourself for beautiful language, gorgeous fashions, and serious laughs.
July 5–20, 2019
The Trestle at Pope Lick Creek
by Naomi Wallace
directed by Saskia Bakker
The Cast
Pace: Katarina Blakeslee
Dalton: Gabriel Halstead-Alvarez
Gin: Christine des Garennes
Dray: David Heckman
Chas: Kevin Wickart
Story
High atop a railroad trestle that spans a bone dry creek, two teenagers plan to race across the bridge against an oncoming locomotive. At first their scheme adds excitement to life in a small factory town during the Great Depression, then sensual experience awakens dangerous passions in an era of stifled ambitions. With theatrical flourish and lyrical finesse, award-winning playwright Naomi Wallace delves into a world where people struggle to change lives.